The Call for Proposals is now closed. Notification about the results will be sent out latest by 29 April!
Community-curated program
One-third of the conference programme showcases content from the broad community of professionals representing business, legal, tech, and social perspectives. Proposals should align to the thematic focuses of the conference programme (list available at the programme page), although suggestions for additional topics can be made.
Check out the important dates below.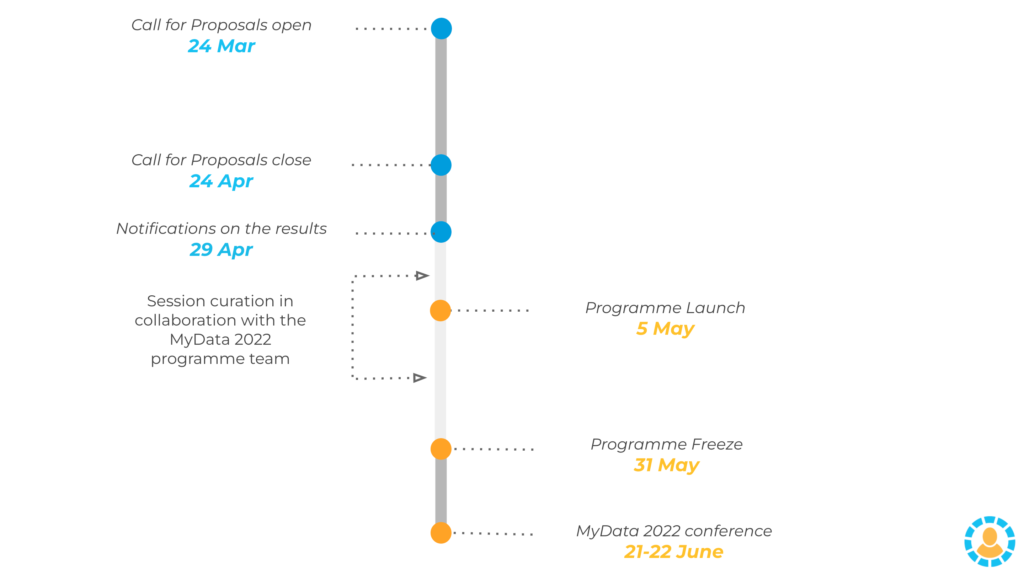 Please note!
After the call ends on 24 April, all submissions will be reviewed by a dedicated review team. Notification of acceptance will be sent out by 29 April.
We might accept the proposals in their original form or recommend specific changes to strengthen the overall session. While you can make changes to your proposal in the month(s) leading to the conference, providing a well-thought and articulated description for your proposal will distinguish it from other similar proposals, and hold significant weight in our evaluation process.
Further, we strive towards a diverse programme representing views from traditionally underrepresented groups and different areas of expertise. Submissions that show diversity (incl presenters' gender and geographic profile, perspectives, and formats) in the design of their proposal will earn plus points from the review team.
All accepted proposals will be supported by the MyData conference team to ensure continuity and coherence of the overall programme. So expect to work with us closely as we prepare the programme for success!
Types of sessions we are looking for:
click on + to read more
Stage sessions (60 min)

60 min sessions run in parallel on each of our three stages.
Audience capacity: around 200 people.
Equipment available: 4 microphones, one laptop to show your material on the main screen.


Presentation (max 15 min / 1-2 people). Give a well-prepared presentation on a topic within one of the themes of the conference. Different formats are accepted and interactive presentations are encouraged.
Panel discussion (max 30 min). Host a balanced discussion on a specific topic with leading experts. Please keep in mind that panels with a gender balance are prioritised in the review phase.
Presentation + Panel discussion (max 45 min / 1-2 presenters, 3 panelists + moderator). Start your session with a 10-15 minute presentation to introduce a topic and follow with a 30-minute deep-dive panel discussion to look at different perspectives.

Working sessions (90min or more)

There are a number of 90 min working sessions running in parallel to the main stage sessions. If needed and justified, we can reserve up to two sessions slots for a longer workshop of up to 3 hours.

Audience capacity: max 15 people. Due to space limitations, all working sessions will require pre-registration. Please note that depending on the session focus, we may be able to accommodate working sessions in larger spaces – please indicate your expectations for the audience in your submission.

Equipment available: one laptop and projector screen. Post-it notes, pens, paper and other materials need to be provided by the session host.

Meetup – Networking meeting of like-minded participants on a topic.
Workshop – Well-prepared and goal-oriented hands-on workshop in which knowledge on a specific topic is communicated or specific skills are mediated.
Roundtable – Hold a close discussion and exploration of a specific topic. A roundtable should hold all participants on equal footing with the aim to confront issues rather than people.

Other Activities (varies)

We do not want to limit your imagination! You can propose other kinds of content to the conference or side activities with visitors outside of the sessions: be it flash mob, field test, site visit, installation, exhibition, concert, pop-up happening or something else.
Please note! Priority is given to the proposals for 15-20min presentations on topics relevant to the programme focus, but we remain flexible in incorporating also longer content to the conference sessions. For longer proposals, we may suggest alterations or collaboration with another programme contributor.